Sam Edwards wasn't quite born in a trunk in the Princess Theatre, but he entered this world as part of the third generation of a show business family. Sam (rarely ever "Mr. Edwards") was born May 26, 1915, in Macon, Georgia. He can hardly recall his first time before an audience. While a babe in arms, he was carried on stage by his mother, famous actress Edna Park, in a play called Tess of the Storm Country. It would be a long time before he gave up acting, having evidently caught the fever in infancy.
Edna Lorraine Watson Nelson (b. 1892) was known up and down the east coast as Dainty Baby Edna, a name quite fitting for her four-foot, seven-inch stature. By the time Edna was a teenager, she had joined her own mother, Bonnie Brown Watson, as the smallest and youngest member of the Four Dancing Watsons, kicking her high-buttoned shoes as she pranced on the vaudeville circuit. She was married in 1910 at age 17 to fellow actor Samuel John Park of Indiana. They were shown living in Punxsatawney, Pennsylvania (home of the world's most famous groundhog) with his family in the 1910 Census, both listed as actors. Samuel was also the father of Florida M. Park born April 10, 1911 in Florida, and Sam George four years later while they couple was staying in Macon, Georgia. The tenuous relationship between the Parks did not last long after Sam's birth, and they divorced in mid 1916. Samuel J. Park was back in Indiana when the 1917 draft was taken, still listed as an actor but now a free agent. Sam did not even know who his birth father was until he met him once in the early 1940s in Hollywood. Two correspondences between them still exist.
Edna married Sam's stepfather (who he always considered his true father), actor Charles Ladson Edwards (7/22/1895), around 1917. Edwards was a life long resident of Macon where Sam had been born, and was listed in 1917 as a member of Edna's company. He changed his name (perhaps due to a conflict with another actor) to Jack L. Edwards, matching his father's given name, around 1919. In the marriage transaction, Sam gained a total of 11 aunts and uncles as Jack was the third of 12 children born to farmers Jack and Lizzie Edwards. Edna did continue to act for a while longer. She had been the leading lady for cowboy actor Tom Mix on a few occasions, and did some early films in the New York area. Her career in the movies ended abruptly one day when a director did not tell her that the railing on the ship she was filming on would break away when she leaned on it as the villain approached her. Even though they were ready and quickly snatched her from the water, she had suddenly had enough of that nonesense, and chose to become a full-time mother, never returning to the movies, but eventually moving to the stage and then radio. The family is not found in the January 1920 Census, very possibly because they were in transit when it was taken.
It should come as no surprise that Sam, his sister Florida, and his brother Jack Lawson Edwards Jr., (born in Florida in 1919), would all become involved in show business. One of Sam's earliest recollections of being on stage is one he would rather forget. The play was Why Men Leave Home with his mother playing the leading role of Miss Ketchum. Sam had to play the part of Miss Ketchum's daughter, but the lace panties he had to wear didn't fool everyone in the audience, and certainly didn't please little Sam. He also recalled the experience of surviving a hurricane during the time the family was living in St. Petersburg Florida, and the strange moments of being inside the eye as it passed over.
Jack and Edna continued to tour while based in St. Petersburg, and later Jacksonville, Florida, putting on stage shows and mild vaudeville entertainment. She formed a new company called the Edna Park Players in early 1922 with Jack as her producer and leading man. They were found appearing in San Antonio, Texas, as shown in the advertisment at the right which appeared in the
San Antonio Express
and
San Antonio Light
of December 1922. Coincidentally, Edna's previous leading man Tom Mix was in town that same week. In a review of the play
Adam and Eva
, the first offering of the company, it was mentioned they had just closed a long run of the production in Jacksonville. Jack was called a "cultured young actor whose career includes supporting some of the best stars on the stage." It goes on to state that "Edna Park is scarcely more than a slip of a girl. Jack Edwards, the leading man, is tall and slender and appears to be about 25 years old [very close]. He's a far cry from the old-time lead whose chief duty was to rescue the heroine from the clutches of the villain in the second act." In early January of 1923 they switched the play to
Fair and Warmer
, which turned out to be an even bigger hit in San Antonio. The following week they put on
East is West
with Edna playing a little oriental girl. They followed that during their extended stay in southwest Texas with
The Broken Wing
(stated in the advertising as "not a motion picture"),
The Sheik's Love
(with Jack as the Sheik), and
The Misleading Lady
, plus many others.
The couple and their children became the darlings of San Antonio, and their extended stay in San Antonio became semi-permanent for many years. And so it was that Sam, Florida and Jack spent their formative years in Texas surrounded by theatrical people. Sam vividly remembered when he would walk home from school some days and the habenero and jalepeno peppers were growing everywhere. He talked about just picking them off and eating them, often getting blisters on his lips, but still enjoying the experience. By the late 1920s, when talking pictures were quickly growing in popularity, dramatic stock and the remnants of vaudeville quickly waned. Note that Jack had continued to promote Edna by her married name under which she had gained her reputation, and would continue to do so until at least 1932. The family is shown in San Antonio in the 1930 Census living on West Craig street, with Jack Sr. as the manager of a movie theater. He would mix stage shows and presentations of Edna and the children with the latest movies that came through town. In that Census none of the other family members have an occupation listed, but that doesn't mean they were not working. There are advertisments from as early as 1930 showing Jack and Edna performing radio shows on WOAI, one of the earliest radio stations in Texas. This was the beginning of the family shift to the new medium.

Around the time Sam became a teenager, he started singing at and often winning talent shows held at the downtown theaters. He proved to be so popular with the audiences, a combination of his voice and his boyish charm, that the managers asked him to stop showing up so someone else would have a chance to win. During the holidays, he sang Christmas carols over WOAI. While still in their teens, Sam and his brother Jack started contributing to the family income through their collective talents. With Edna writing the scripts and father Jack playing the adult male roles, the family spent nine months broadcasting The Adventures of Sonny and Buddy in San Antonio and Shreveport, Louisiana. This weekly program, one of the earliest serials ever broadcast on radio, was about two young boys who ran away from home and traveled with a medicine show. Every week the program featured Sam and Jack singing popular songs. On one very special occasion, the show was broadcast in Havana, Cuba, so Sam's grandmother Bonnie, who resided there at the time, could hear her grandson belt out Pagan Love Song. Jack Sr. was still managing the movie theater, and Sam bagged popcorn for patrons, sometimes taking in more money than the box office.
San Antonio Light, March 14, 1932 in "Around the Town:
    If your household includes children and a radio you are bound to have listened to some of those juvenile-appeal programs advertising a breakfast food or something broadcast from KTSA at 7 each evening.
    A Trifled touched by the contagious enthusiasm kids have for the songs and conversations of Uncle John and Sonny and Buddy, you might have reflected very cynically that Uncle John probably never sees his two "nephews" outside the broadcasting studio.
    Well, you're wrong. He is not their uncle, he is their father. Sonny's real name is Jack Edwards Jr. and he is going to school out at Mark Twain junior school. Buddy's real name is Sam Edwards, and he attends the new Thomas Jefferson senior school. Everyone knows "Uncle John," their father, as Jack Edwards, actor and theater manager.
    The other night one of the boys got off on the wrong key on a song. Edwards made some remark about the piano being out of pitch and then they got started off on the right foot. Their daddy was proud of that. He said it showed they were real troupers; they didn't lose their heads.
    And, just to show you how much this sort of thing runs in the family, the mother, Edna Park of the stage, writes the continuity of the programs while the boys are at school.
San Antonio Light, October 13, 1933 in "Around the Town:
    Sonny and Buddy Edwards, the sons of Jack Edwards and Edna Park, are now in Shreveport, La., doing a [sic] adventure program over KTBS. Mrs. Edwards (Edna Park) is there with them, writing the continuity and dialogue for the programs, as she did her [sic] for several years. Edwards himself, just back from New York, says the kid[s] will be on NBC next year.
It was in San Antonio that Sam got the bulk of his secondary education. He was a member of the second class to graduate from
Thomas Jefferson High School
, and was a member of the National Honor Society. As his brother Jack recently recalled, "It was always A's and the occasional B with Sam. He was always motivated to excel, no matter what the odds!" This dedication to excellence would show throughout his life. Then there was the prom incident. It seems that Sam wanted to borrow his father's car for a similar event, but was fairly sure the answer would be "No." Undaunted, and a little guilty, Sam managed to quietly sneak it out of the garage and get it far enough down the street to start it unheard. After a couple of blocks, however, it started smoking, which caused a little bit of a panic. Turns out that the emergency brake was set. (How did he push it that far?) Anyhow, he did his best after the evening to sneak it back into the garage, and after having stealthily slipped into his room met... you got it! Dad! "You know, if you had just asked I might have said yes." This would come around again in a good way in later years.
In 1933, the depression was well entrenched in the country, and radio and movies were the only viable and, for many, affordable forms of entertainment. In articles in the Express as early as 1931, Jack Sr. was referred to as a "former actor," and soon was known as the president of the Houston Street Association, a business collective named for the street on which the theater he managed stood. However, "former" may not have worked so well for him. It became evident that it was time for the family to move on to a location that had better resources and a growing distribution network if they were to continue in show business. The direction of the move was ultimately determined by the flip of a coin. Heads, it would be California, and tails, it would be New York. Fortunately for West Coast radio fans, and eventually those all across the country, the family packed up their 1926 Chrysler Imperial in early 1934 and headed west.
The trip took nearly a week, and the family arrived in San Diego with very little money.
As soon as they checked into a motel, Jack went to see
Henry Kramer
of the
Kramer Baking Company
. He had expressed an interest in sponsoring
The Adventures of Sonny and Buddy
, and Jack returned to the family with a contract in hand. The show was broadcast over KSFD from the top of the U.S. Grant Hotel. At the same time, the family traveled to Hollywood every weekend where they recorded the five episodes of the show that had been broadcast live that week. This was to facilitate distribution to other radio stations as well. It was the first dramatic serialized radio program ever recorded at RCA Victor Studios in Hollywood. One hundred episodes were ultimately syndicated, and most still survive in a tape archive of the 16" transcriptions, stored with Pacific Pioneer Broadcasters in California. (A podcast version and CD of the series will be in the works in the near future.)
In 1935, at the end of the
Sonny and Buddy
broadcasts, the family moved north to Hollywood. All five of the acting Edwards started free-lancing on radio programs like
Calling All Cars
,
Those O'Malleys,
The Union Oil Show
and others. They also appeared in some B-movies produced by Monogram Pictures, one of the many film factories that tried to turn out a movie a week. One such film, possibly his earliest, was
High Hat
from 1937 produced by Imperial Pictures, and the only film in which Jack and Sam were credited with their stage names of Sonny and Buddy Edwards.
Around 1937, the family moved on to San Francisco where they once again wrote and produced their own radio programs. First came a western drama,
Sons of the Lone Star
, followed by
The Edwards Family
, with each of the five family members playing themselves. Sam also started appearing on
Hawthorne House
and in 1938 joined the cast of a long running early "soap opera" (defined as a daily drama which was usually sponsored by a soap manufacturer; logically so given the large audience comprised of housewives). On
One Man's Family
Sam worked as continuing character
Tracy Baker
, and his brother Jack was also on the show as
Wayne Grubb
, the boyfriend of Teddy, a daughter of the main family in the show. There was also a running part on an early "Spy Kid" show,
Speed Gibson (of the International Secret Police)
. Sam's first significant credited role on screen was the first of the many
East Side Kids
series late in 1940, which his brother Jack managed to get him in. Jack actually had encouraged Sam just to come to the set to be an extra, but Sam's charisma and radio experience eventually earned him a speaking role as well.
In mid 1941 Sam got his first of many jobs with the
Walt Disney Studios
. Many radio actors were utilized by the studio to add excitement and notoriety to their films.
He recorded tracks for the 1942 animated feature
Bambi
, in which he provided the voice of the adult incarnation of
Thumper
the "twitterpated" rabbit. There would be more work with this prestigious organization ahead. Sam and the rest of the Edwards family were successful in all regards in San Francisco and had extended their reach down the coast to Hollywood now as well. Potential sponsors took notice of their popularity. One of the more interesting publicity plays (now considered stunts) was the saga of a house that they were involved in building, and which each member of the family had some part in designing. (The person who lives in that house in 2004 is excitedly aware of that history.) However, about the time General Mills was ready to sign
The Edwards Family
for a coast to coast broadcast deal, bombs were dropped on Pearl Harbor, and the plans were canceled.

At the onset of World War II, Sam's radio career had started to soar, but he knew that it was only a matter of time before he would be called to serve his country. In early 1942, he had a pivotal role, although a fatal one, in Rubber Racketeers, a film about the dangers of buying black market tires during wartime. During the summer of 1942, Mr. Edwards spent a couple of months shooting a Saturday afternoon serial called Captain Midnight, playing the part of Chuck Ramsey, one of the Captain's loyal sidekicks, who could never seem to see the bad guys coming, or manage to hold on to his gun even when he did see them. The series was a continuation of a run it had on radio, albeit without Sam. After shooting the last of the 15 episodes, Sam stopped by a Navy recruiting station in Hollywood to check out his options, but decided to think it over before signing up. He finally did enlist in Los Angeles on July 25, 1942. The record shows him as an actor, single, without dependents. A few days later, after returning from San Francisco, where he was still appearing on Hawthorne House, he received his inevitable "greetings" from the Commander in Chief, President Franklin Delano Roosevelt, and found himself in the Army.
After three days at the Army Induction Station, Sam boarded a troop train headed for Sheppard Field, Texas, where he was assigned to the Army Air Corps, predecessor to the U.S. Air Force. Three days out, while having some chow at the Harvey House in Gallup, New Mexico, the soldier in training was told he was to return to Ft. McArthur in San Pedro, California, but he had no idea why. Sam was actually looking forward to being a part of the Army Air Corps and training to be a flyboy.
After undergoing part of his basic training with the
Third Coast Artillery
, Sam learned why he had been sent back to California. His was the story of many entertainers at a time when the Armed Forces felt that the war in two theaters would likely be prolonged, and that morale would become increasingly important to continue the fight, part of the foundation of forming the U.S.O. The Army called together entertainers and some of the country's finest musicians and asked them to write and produce a show to raise funds for the
Army Recreation and Welfare Fund
. They were given a mere ten days to write the music, rehearse and open at the
Belasco Theater
in Los Angeles. The show was called
Hey Rookie
, and the star was an experienced comic actor named
Sterling Holloway
, who played the part of a draftee on his first day at boot camp, and who Sam had worked with on the Bambi sessions. (Sam and Sterling, who would eventually provide the voice of Winnie the Pooh, became lifelong friends who later made several Pooh recordings together for Disney.)
As the curtain went up on opening night of what was initially conceived as a two-week run, the composers were still finishing some of the musical arrangements and even lyrics. As Sam clearly recollected, the show was really rough that first night. The performers had been sleeping on cots backstage in a frantic effort to put the production together within such a compressed time frame. They had not even had a dress rehearsal, but the scant audience didn't seem to care. They loved everything about Hey Rookie. Even though not one ticket had been initially sold for the second night, word got around fast, and the house was about half filled at the opening curtain. By the third night, after reading glowing reviews in the newspapers that lavished praise on the show, the theater was nearly full to capacity. Hey Rookie was a smashing success that performed to standing room only houses for the next eight months.
With the war and the number of troops escalating, General Dwight D. Eisenhower called for more entertainers overseas, and the Hey Rookie show rang down its last curtain. The Special Services needed fresh entertainment in North Africa, and the nucleus of the cast and orchestra shipped out to Fort Meade, Maryland, then on to Africa. They had rearranged the set and logistics of the show so that it could be set up in the field in a matter of minutes. As the troupe vocalist, Sam's most popular songs were I'll Be Seeing You, Begin the Beguine, Sonny Boy (one of his favorites to the end) and It's a Helluva, Swelluva, Helluva, Life in the Army from the Hey Rookie show. The latter was also published in sheet music form, a rare find today.
After playing to more than two million troops in Africa, the group was doing what they assumed would be their last performance at the Algiers Opera House, but fate stepped in once again. In the audience that night were Generals Eisenhower and George Patton. The entertainers snapped to attention when both generals showed up back stage. Eisenhower said it was the first show he had attended since the war began and that he was there because the reputation of the performers preceded them. He told them, "You may not be pulling the trigger on a weapon, but the job you are doing is just as important, and you have my blessing. Officers like men who do their jobs well, and you do yours exceedingly well." So rather than being sent to a replacement depot, the performers were assigned to Patton's Fifth Army and sent to Naples, where they spent three months entertaining troops along the front lines.
Once again, the troupe was about to be disbanded and assigned to military duty, but General Ike stepped in once again and had them sent to the China-Burma-India Theater to continue with the show, given the morale benefits it had on troops elsewhere. When peace was declared, the group was in Chabua, India, where Sam lay in an Army hospital recovering from his third bout of malaria. He remembered vividly about their long train rides through jungles so dense that they constantly brushed the sides of the rail cars, and how the heat and mosquitoes often took their toll on the entertainers and other soldiers alike. After serving more than two years overseas, ultimately as a Buck Sergeant, Sam finally arrived back to civilian life in Hollywood, where Jack (who was not able serve due to physical limitations) and Florida had become popular radio performers. Jack had also continued some film work, appearing in such classics as a military short warning of the perils partaking of female professionals while on leave, and the classic Cross of Lorraine starring Gene Kelly. His radio and film work would also continue into the 1950s, sometimes intersecting with his older brother's career.

At this point, Sam felt he might have difficulty jump-starting his career after a three-year absence. His role in One Man's Family had understandably been written out. As Carlton Morse put it, there were too many babies and people in the cast, so Tracy Baker was shot down over Africa during the war, along with Sam's continuing role. However, good fortune smiled on him, and within days of arriving home, he was cast nearly concurrently in the radio soap Guiding Light with a rather convoluted story line, as well as Cavalcade of America with Lloyd Nolan. Jack had also been called for the part, but he had a conflict while doing another show (a common dilemma with the busier actors at that time) and sent Sam to fill in for him at the first reading. The show's producer, Jack Zoller, suggested that Sam was a better type for the part. Jack agreed and insisted that Sam be cast in the role, in spite of valiant protests on his part. It wasn't long before other producers were calling, and soon Sam was cast on Dr. Christian, Lux Radio Theatre, The Life of Riley, and many other post-war shows.
In April 1946, Jack once again stepped in and suggested that Sam try out for the part of the teenaged Dexter on
Meet Corliss Archer
, a show based on the comic play of the same name. Not being familiar with the show, which had been broadcast for three years using a succession of actors in the lead roles, Sam opined that he really didn't know anything about archery. After he finally agreed to look at it, Sam learned that Dexter was a teenaged boyfriend to similarly teenaged Corliss, and was further reluctant to try out for the part, saying he was too old to be playing a teenager when he was now over 30. The producer felt otherwise and Sam and
Janet Waldo
, playing the lead part of Corliss Archer, kept audiences around the country laughing for the next eight-plus years through early 1956. Each show opened with Dexter (Sam) yelling in a loud breaking voice, "Coooorrrrr-laaaaaaaiiiiiis," and featured a catchphrase that achieved universal popularity, "HOLY COW!" Janet went on to voice many well-known cartoon characters from the 1960s to 1990s, including Judy Jetson of
The Jetsons
.
It was rare during these days that any radio actor supported themselves with but one role. So Sam kept busy, or, more accurately, was kept busy by other productions in Hollywood. Most of these were guest shots playing incidental characters for both comedy and dramatic series. His story is like that of many character actors, who sometimes did three gigs a day, sometimes two of them live, often at opposite ends of Hollywood Blvd., or even over the hill in the San Fernando Valley. While many shows were done live, the advent of audio tape in 1947 and better formulations for the large 16" transcription discs in 1948 shifted the balance to the more convenient schedule allowed by recording shows in advance. Another advantage, sometimes eschewed by the seasoned professionals, was that of editing out mistakes or changing dialogue after the fact. Sam rolled with the punches in any case, and accepted the challenges of live radio equally with those of doing multiple takes during recording sessions. Much of the time it was at the discretion of the producer as to which method would be used, but ultimately the control of the finished product that could be achieved with magnetic tape helped to make it the preferred medium for most dramas and some comedies by the early 1950s. In fact, some film actors or actresses (such as Joan Crawford) who appeared on radio insisted on appearing only on shows that produced edited transcriptions as they did not want to make an on-air error that could (in theory) harm their career.
Among the better known shows that Sam did guest roles on were
The Great Gildersleeve
,
Dragnet
,
Richard Diamond: Private Detective
,
This Is Your F.B.I.
as a recurring character, many episodes of the long-running
Yours Truly, Johnny Dollar
,
Escape
and the highly regarded
Suspense
. Among the best of the latter was an episode titled
The Game (click for script)
in which he was cast opposite veteran actor/sportscaster
Gil Stratton, Jr.
as one of two bored teenagers with a gun who decide to play Russian roulette just for something to do. The change in demeanor of both boys, which is expressed entirely through breathing and inflection in voice, is extremely convincing as the show progresses. He often remembered this as one of his favorite radio appearances outside of
Meet Corliss Archer
. He was also on the original radio series
Father Knows Best
in a role similar to his Dexter character, but from that cast only
Robert Young
made the transition to the television version in the mid 1950s.
Dragnet was also a boon to Sam, but it could have been more difficult for him to work with Jack Webb if not for the latter's sense of humor (he really did have one). It seems that in the late 1930s, Webb had auditioned for a part on the Five Edwards show in San Francisco. He was ultimately turned down because, as it was later described, he sounded too much like Joe Friday. So when Sam was first hired for the radio Dragnet, he apologized in that first awkward moment for the rejection of a decade before, likely his father's decision. Reportedly, Webb told Sam "That's all right. I probably sounded too much like Joe Friday anyhow." Go figure. He would work with Webb in Hollywood until the mid 1970s. Although Sam found that he preferred California, where the majority of the radio action was, he spent three productive months during this period in the Big Apple (NYC) doing Mr. President with Edward Arnold. In any case, the bulk of Sam's estimated 8,000-plus radio episodes and appearances occurred during this period from 1946 to as late as 1962.

Although Sam was no stranger to film, having appeared in at least two features plus the
Captain Midnight
serial before WWII, his primary milieu up through the late 1940s had been radio.
However, he had done some stage work throughout his life, including the
Mr. President
role, and casting calls for movies started coming in. Two 1948 appearances in
The Street With No Name
and
Larceny
were minor, but showed his propensity for visual character acting as well. The next role he landed was the first of many in which he would be seen in uniform. In
Twelve O'Clock High
(1949), he plays a slightly cocky Southern flyboy (Lt. Birdwell) in the Army Air Corps with a bit of attitude toward the demanding general of the 918th Bomb Group, as played by
Gregory Peck
. It should be noted at this juncture that although many movies depend on star power to draw people in, the stars often need to draw on or play against lesser roles in order to present character strengths and weaknesses through contrast and comparison. In that regard, any speaking role that offers some form of either support or (in this case) dissent enhances plot and character exposition. So even if the role seems relatively minor, if it did not land on the cutting room floor then it is significant for those elements it provides. Sam's work in
Twelve O'Clock High
signifies this, as his character, which could be pegged as the "everyman," provides a point of view with whom the audience, particularly those in the military, could find some solidarity. If not, they at least are presented with an alternate point of view for more effective contrast. That is where the strength of the good character actor comes in, particularly when he
becomes
the role he is assigned to play. In any case, it certainly kept Sam busy for the next thirty-plus years.
Another interesting role in 1950 was in
The Sun Sets At Dawn
, in which Sam is one of many reporters giving their perspective on a murder trial they are covering. Just short of film noir, it displays great contrast among all the characters, and it was a "juicy" role for the time. After playing in the
James Stewart
comedy,
Jackpot
, Sam literally hit the jackpot again with a significant part in
Operation Pacific
(1951). Here he again plays a Southern boy (even though he was 36) in the military, albeit this time in the Pacific Theater, and underwater at that. Literally, in fact. The majority of the ocean scenes, many that take place at night, were actually shot on a special sound stage that had been filled with several feet of water in an effort to utilize a submarine mockup while maintaining the illusion of endless ocean. Sam had many scenes with the well-established star of the film,
John Wayne
, including a pivotal one that leads to showing the tender side of his submarine commander's character. In this scene, Junior (Sam's character) ends up in the water and Wayne's character dives in to save him, although Junior ultimately drowns. The irony here is that Wayne actually helped facilitate a rescue of Sam who nearly drowned on that set, catching on something lurking below the water.
Operation Pacific
remains as one of Sam's most noteworthy movies.
A very dramatic appearance was well conceived in the film version of Gangbusters in 1954, in which Sam's character, Wayne Long, commits robbery and murder in order to impress an inmate idol of his, John Omar Pinson (based on a true story). He reprised a similar tough guy role in the 1958 production Revolt in the Big House, a movie that even lots of good acting had trouble saving. However, a role is a role, and if you play it well, it can be the highlight of even the film no-more genre. He also had parts in the 1954 thriller Witness to Murder with Barbara Stanwyck, and the predictable gang flick Guns Don't Argue in 1957. All of this and fulfilling his many radio continuing obligations as well! What else could enter the mix to keep Sam busier?

It turns out that the element of success and further continuing employment for Sam would be television, where he was kept busy for the better part of three decades.
His first notable TV appearance was in the first television episode of
Dragnet
,
The Human Bomb
, driven in part by his ongoing relationship with creator Jack Webb. It seems that Webb had his favored cadre of actors, and for a time used them nearly as often on TV as he did on the radio. Even though he acknowledged that the viewer identification of the same actor playing different parts close together during a series run was much different on TV and may have limited some of what he did, he continued this practice to a point into the 1970s. Aside from
Dragnet
, appearances would be scant for a time, in part due to his radio and film obligations. Fortunately, Sam did land a film-like role on one of the most notable episodes of the award-winning
Christopher Closeup
series.
A Link in the Chain
starred veteran
James Cagney
as a retiring school teacher who is questioning the value of the work he achieved during his career. Part
Twilight Zone
and part
It's A Wonderful Life
, the small cast, including Sam as one of the ghosts of the teacher's successful past, turned in a stunning performance that is still regarded as the best of Cagney on television.
Sam often appeared on several early television series that had their roots in radio. These include The Adventures of Ozzie & Harriet, The Burns and Allen Show, Death Valley Days, Gangbusters (in addition to the film), The Jack Benny Show, and long-running The Red Skelton Show. He would appear on the Skelton series many times throughout the 1960s, including one episode with fellow actor John Wayne. It is clear that many of the television shows of the late 1950s to mid 1960s were a reflection of radio shows, or actual visual incarnations of these shows, so radio actors that had the right look were certainly desired during this transition. Shows like General Electric Theater and You Are There on CBS did their best to integrate radio scripts (from radio script-writers) into a palatable visual medium, often on a soundstage. For the former, he was Bob Cratchit in a Jimmy Stewart-produced version of A Christmas Carol set in the old west. On radio he had played both Bob and Fred, nephew to Howard McNear's Eben (Scrooge) character. You are There reenacted historical events as if news cameras were there covering it, and Sam made a pair of appearances on this series. He also landed a part as a bellboy on I Love Lucy during Lucy and Ricky Ricardo's trip to England, and on to Europe.

By this time it got to the point where this actor who was not particularly famous, not a big star, but well regarded and easily recognized, woke up many mornings possibly wondering if it was cameras, studio lights or microphones that he would face that day; sometimes it was all three.
Gunsmoke started on the radio in 1952. It was hardly the first western, as such radio shows went back to the late 1920s. Sam had previously been featured in many episodes of Tales of the Texas Rangers and western stories on other shows. However, Gunsmoke simply had the right team working on the right scripts using the right actors, great music score, great production, and consistent quality. Sam did no less than 100 episodes of the radio series right up through 1961 when it was cancelled in favor of television. Frequent use of him as either a guest star or background character helped him to be cast in future westerns both on television and radio, and occasionally film. Roles on similar radio series, using some of the same team members from Gunsmoke, included various parts on The Six Shooter starring Jimmy Stewart, and as a regular cast member on Fort Laramie, which starred Raymond Burr. There was also the short-lived Luke Slaughter of Tombstone and the highly popular Have Gun, Will Travel, which ended only slightly before Gunsmoke.
A character actor can't live on the old west alone, much less playing juveniles into his 40s. So exercising versatility, Sam also landed roles on Romance (not quite a show about Don Juans, given some of the plot lines), a recreation of Brave New World on CBS Radio Workshop, and many appearances on a Salvation Army produced show, Heartbeat Theatre, with limited production but effective human interest scripts. But other than the westerns and Heartbeat Theatre, most of the regular radio shows were superceded by television versions of the same, often using the same scripts, or they simply made way for disc jockeys, news and talk radio. By 1962, radio drama was floundering. It would come back for a time, but not during the 1960s.
Then the TV westerns discovered Sam. Well, sort of. Actually, he had been doing Gunsmoke on radio with Bill Conrad and Parley Baer pretty much since its inception (he worked with them on many other series as well, considering them life-long friends). But it's easier to play a cowboy on the radio than on the screen, as one might realize if picturing the extremely talented but somewhat oversized Conrad in the role that James Arness played on television. Even though it may be plausible historically that not all U.S. Marshalls were tall and svelte, for TV viewers and especially for advertisers, a certain "look" was expected. For Sam, this look was evident as soon as he put on a cowboy hat for Chester's Hanging during the first season of Gunsmoke on television. They used him often throughout the entire run, though often as a desk clerk. Sam just had that kind of desk clerk/telegraph guy look, because he would often play the same type of role on other westerns as well, including a recurring role as such on The Virginian. Still, he did make a convincing cowhand.
Another success was found on the
Andy Griffith Show
during the first season, including a moving and memorable
Christmas Show
that remains one of the favorites of Griffith fans to this day. It clearly demonstrated Sam's ability to mix comedy and drama, as well as a viable family man type. He was also pegged for comedic parts on the popular CBS series
Petticoat Junction
and
Green Acres
(actually based on a 1950 radio show titled
Granby's Green Acres
) around this same time. There is a sad irony involved with these appearances. His role on
Petticoat Junction
along with his collective past career spurred the creators of this and
The Beverly Hillbillys
to endeavor to hire Sam for the new show they were debuting in the fall of 1965. However, a contract issue for something he was currently involved in kept him from taking the role of Oliver Wendall Douglass (eventually played by
Eddie Albert
) on
Green Acres
. If they could have just held off a few more months, then... Success can be fleeting if nothing else, but Sam's success continued to be proven by continuing employment, so perhaps the avoidance of a stereotype that a starring role in TV brings on served a better purpose for his career. (Think Bob Denver and Leonard Nimoy if that helps make the point.) He did appear on
Green Acres
twice just the same, always the consumate professional with no grudges.
As noted, many of the early television shows were either based on successful radio shows or followed their formula, using their writers as well. However, the nature of TV changed as directors and producers discovered the visual merits of car chases, exciting locations, and other things that were more difficult to convey on the radio. Some also believe that TV shows sucked the imagination out of people since the shows presented all the visualizations for you, something that the "Theatre of the Mind" worked so hard on. One could listen to a radio show on which the characters are on a ship during stormy seas and, depending on the acting and the sound effects, actually get seasick listening. Television removed many of the visual elements of the "mind's eye," replacing them with a director's vision instead. Both were valid points of view, and remain part of a larger debate to this day. As for Sam, he supported both and never bit the hand that fed him. Many of his mid 1950s to mid 1960s appearances were indeed in shows that were more or less radio on the screen, but color television and the public's demand for something different altered the look and feel of television in the mid to late 1960s, further separating it from radio, and further overtaking it as well. Although radio series were, for the most part, history by the mid 1960s (some of Sam's last appearances before the revival were in 1964), many nostalgic people held on to it through their memories and recordings until the first revival in the mid 1970s.

It was a common practice for studios to hire radio voice talent for cartoons, as such actors were a known quantity. As a result, Disney, Warner Brothers, MGM, and Hannah Barbera kept a variety of actors well-employed putting words into the mouth of colorful drawings projected onto the screen. Among these actors that were better known to the industry were
Jim Backus
,
Dawes Butler
,
Stan Freberg
,
Janet Waldo
,
June Foray
,
Jane Webb Edwards
(Sam's sister-in-law),
Pinto Colvig
,
Sterling Holloway
,
Clarence "Ducky" Nash
,
Hal Smith
, and the ubiquitous "Man of a Thousand Voices" (I have only counted 843),
Mel Blanc
.
Sam's brother Jack actually filled in for Blanc (shhh! this is not widely known) during the famed vocalist's coma and recovery after a serious accident in 1961, albeit only in the role of Speedy Gonzalez until Blanc recovered sufficiently. In any case, Sam was also active in the voice business. His first gigs as such were for
Bambi
, as mentioned previously, and for a 1943 short (recorded in 1942) featuring the famed stop-motion Puppetoons of George Pal,
The Little Broadcast
. He also voiced the occasional animated black and white commercial in the 1950s, and did some work for Hannah Barbera in the 1960s, including a
Flintstones
episode. It is not widely known that he had his own series as well.
Rod Rocket
was an educational syndicated series that mixed children's entertainment with math and science. The episodes were serialized in five-minute chunks that stations could either play in snippets, or string together a group of them to form a 30-minute story arc. Sam played Rod
and
his sidekick Joey, with fellow actor and friend
Hal Smith
voicing the scientific brain of the missions, Professor Argus. The independently produced shows from 1962 to 1963 soon sold to Filmation and remained in circulation for nearly a decade around the U.S.
Sam's work for Disney picked up again in the 1960s and throughout the 1970s. For the
America Sings
attraction, an audio animatronics show that was the successor to the famed
Carousel of Progress
and ran at Disneyland and later Disney World for fourteen years (1974-1988), Sam provided the voice of
Ollie the Owl
to
Burl Ives' Sam the Eagle
. Another lesser-known attraction that Sam and his brother Jack provided voices for is the Declaration of Independence audio show inside the exact replica of Independence Hall at Knott's Berry Farm in California, a show that is in its fourth decade. Throughout the mid 1960s, and again in 1977, he narrated or provided voices for numerous
Disneyland Storyteller
albums, such as the
Wizard of Oz
record series as both the
Tin Man
and the
Cowardly Lion
. Other works included
The Boatniks
,
The Aristocats
,
The Absent-Minded Professor
,
The Three Little Pigs
(as the big bad wolf),
The Orange Bird
, and some uncredited records in which he often played multiple characters along with one or two other actors in the same capacity. Most notably, Sam also supplied the voice for the characters of
Heffalumps and Woozles
, as well as
Owl
and
Tigger
on Winnie the Pooh LP records (not the films, which were voiced by
Paul Winchell
and others). It is Sam's voice singing the original and most widely distributed recording of
The Wonderful Things About Tiggers
. (
Click for a related article)
. This was not an uncommon practice for the Disney Corporation, and was really a bottom-line issue. Some of the higher-billed actors translated into higher bills for Disney when it came to record distribution, so they went for just as capable lower-dollar actors outside of the films, something that worked out well for all parties involved. In any case, Sam was often called upon to "do Tigger" right up to his last year, as many parents wanted to share that magic with their kids, just as they had experienced it a generation before.
For PBS, Sam did frequent voice work on a bi-lingual series called
Viva Allegra
in the mid to late 1970s. He also recorded for some educational filmstrip series produced by
Silver Burdett
, including one about the old west and the pioneers. Other animated series included a run near the end of the popular
Jonny Quest
series of the early 1960s. The 1970s brought
Wait Till Your Father Gets Home
and
These Are The Days
. However, in that period between
The Flintstones
and
The Simpsons
, it was difficult to sustain interest in a prime-time animated series, so they ultimately did not last long. One final animated series was not that far off from his first major run, and was titled
Rickety Rocket
, where he provided a number of character voices. There are many more uncredited voiceovers that Sam was responsible for, including some looping work for
James Dean
in
East of Eden
, and commercials for both radio and television. Sam even contributed to the voices of the Oompa Loompas in the 1971 film
Willy Wonka and the Chocolate Factory
. As long as the performer was compensated, such work commonly existed without public recognition, but an agent who wanted to find a particular performer (which for Sam was fortunately a frequent occurrence) would have had little trouble since the studios kept good records.

In spite of a busy radio career and a growing television presence, Sam also appeared in many more motion pictures throughout the 1960s to the early 1980s. The year 1960 started out with what has become a sort of cult favorite,
The Beatniks
, where Sam is one of the gang described in the title. It is also a favorite target of those who follow Mystery Science Theater 3000 (MST3K) on cable/satellite channels. Sam then plied his comedy face in the 1961 Disney classic
The Absent-Minded Professor
, trying to figure out the Air Force procedure for dealing with a flying Model-T Ford. Paul Newman's
The Prize
, from 1963, gave him nice exposure as a reporter tracking recipients of the Nobel Prize during the Cold War. It still holds up today. Continuing work on TV limited films during the next few years, but he did get a call to be part of the chorus (he had the look) for Gene Kelly's production of
Hello Dolly
with
Barbra Streisand
and
Walter Matthau
. Due to poor late-winter weather and continuing conflicts between the film's stars (but we aren't telling tales here), the few days required for this stretched into six weeks, much of which was spent at the local bar waiting for the sun to shine or the stars to play nicely. Sam got to enjoy some quality time with Gene in any case.
The following year and new decade, 1970, brought a great performance in any otherwise questionable film. It's not that the actors hired for
Suppose They Gave a War and Nobody Came
were bad. After all, there were Tony Curtis, Brian Keith, Ernest Borgnine, Don Ameche, Suzanne Pleshette and many other familiar faces. It suffered from an ambiguously motivated plot, which was protesting the war in Vietnam in some regard by focusing on state-side malaise and tensions between an Army base and the local citizenry. As a deputy sheriff who is tasked with stopping a tank early in the morning with only a gun and wits, Sam provides one of the more entertaining moments of the film as he looks up at the car-crushing behemoth on a vacant desert highway and asks, "What the hell are you guys doin' out here this time of the morning?" (
Click here to listen
.) Was that really the point? That's the comedy of it. His agent nonetheless rewarded him with a part in
The Cheyenne Social Club
with Jimmy Stewart that same year. We have evidence of more feature film appearances from this time via call sheets and residuals, but given his popularity as a voice actor, his appearances in such films as
Dirty Harry
,
Bullit
and
Magnum Force
may well have been through looping over other actors only. Updates will be posted as we research them for the full biography.
Sam's work in television also translated into a new genre of movie, the made-for-TV film (at one time called "Movie of the Week"), which originated in 1971 with Steven Spielberg's classic thriller Duel. Some had been done before that, but the TV film factory has often been traced to this early ABC presentation. Although Sam did appear in selected features of the 1970s, the bulk of his screen work was on television. Some of these, such as O'Hara, United States Treasury: Operation Cobra or Chase, were pilots for or extensions of established series. Others were TV versions of larger scale disaster films, such as 1974's Hurricane Hunters. Other familiar titles are The New Daughters of Joshua Cabe and Mark Twain: Beneath the Laughter. One interesting television movie that Sam acted in was called The Incredible Rocky Mountain Race featuring a whimsical story about a race between Mark Twain (Christopher Connely) and Mike Fink (Forrest Tucker) as narrated by the elder Mr. Clemens. Another interesting role was in a trilogy of short films gathered under the general title Moviola, his appearance specifically in The Scarlett O'Hara War, a story of the casting of this coveted part for the 1939 feature Gone With the Wind. All of these demonstrated the evolution of television into its own medium in a distinct separation from its ancestors, radio and feature films.
The 1970s also brought some more work from Sam's long-time friends at Disney. The first was in Scandalous John, a sort of western story about a cranky rancher dealing with his rights. Another was a seen-but-not-heard role on a feature originally made for television but released theatrically, Escape to Witch Mountain, still a popular Disney classic. His most extensive role was also a somewhat dangerous one; an appearance in Flight of the Grey Wolf, also a TV feature repackaged for the theaters. He had to go on location to Northern California for this film, and was required to ride a horse. Things were compounded by the movie's star(s), trained but still not always predictable grey wolves. As a cost-cutting measure, Disney hired a wrangler but not his horses, due to the cost of transporting them to the location. So Sam ended up with a horse that had little acting experience and even worse manners and temperament. As a result, something spooked the reluctant beast and Sam was injured falling off of it while having a foot caught in the stirrup. He finished the shoot with no further serious episodes, but a painful injury, and never mounted a horse after that incident. Radio had sound effects guys to take care of these problems aurally. No wonder it was his favorite medium!
Back to television, there were lots of calls during the 1970s, and Sam was working more often than not, something that not all character actors registered with AFTRA are so lucky to have done. Among his frequent TV appearances following the spate of the late 1960s revival of Dragnet were some similar shows, such as
The Rookies
and its spin-off
S.W.A.T.
, as well as
The Mod Squad
and
Adam 12
. Detectives seemed to like Sam also, as he made frequent appearances on shows like
Mannix
,
McCloud
,
Hawaii Five-O
,
Mission: Impossible!
,
Ironside
,
Cannon
(with old friend William Conrad),
The Streets of San Francisco
, and several episodes of
Barnaby Jones
with Buddy Ebsen. On one of the
Streets of San Francisco
episodes, actually shot in its namesake city, Sam had an appearance as bum. He wandered off for a cup of coffee during a break, then while attempting to return to the set encountered the hired security force who refused to let him back in. He was so convincing in appearance that the officer refused to believe he was actually one of the hired actors. Fortunately the director quickly straightened out the mix-up.
For those who liked the more quirky cult series, Jack Webb reused Sam on his short-lived Project U.F.O., he had a notable appearance on Kolchak: The Night Stalker, and even two turns on The New Adventures of Wonder Woman. Fans of the outstanding Then Came Bronson will know him from one of the more controversial episodes of that show dealing with a nude painting on a barn, and the mistaken identities of who the female subject was. Since Gunsmoke finally took a bow in 1974, westerns were rarely in vogue for quite some time after that. The closest thing to a western series as the 1980s approached involved Sam's final appearances on screen, a continuing role on the long-running Little House on the Prairie. Here he played a couple of different characters, including the town's postman in an early appearance, and Mr. Anderson the Walnut Grove banker throughout the remaining seasons of the series until 1983.
Aside from Little House, his last two TV appearances show Sam at his funniest. On Happy Days he is a country doctor tending to Fonzie (Henry Winkler) who got shot in "the part that goes over the fence last." And one unlikely but fun one-day role is among the most difficult to locate, but reportedly one of his most hysterical portrayals. It was as a drunken justice of the peace on the daytime drama Days of Our Lives. (For fans of the comedy series Friends, it should be noted that in spite of the implication that D.O.O.L. was taped in New York, it has long been based in Los Angeles where it is still produced.) There was one more "almost" at this time as he auditioned for and was second-pick for the part of the cook in City Slickers, which was ironically enough filmed near his new home in Durango, Colorado, where he had moved by this time. In any case, commuting to and from Colorado, or finding jobs during his visits to Los Angeles became cumbersome, and Sam made the decision to retire from television and film after a successful career in both spanning collectively over 40 years.
For more linked listings of movie and television appearances that Sam Edwards made, you may follow the links below to his page on either the
Internet Movie Database
or
TV.com
.

Up to this point we have focused on Sam's lengthy career in the public eye and ear. However, there are many extraordinary facets of Sam in his personal life that are worth conveying to the world for a more complete picture of the accomplishments and legacy that he has left behind. They are full of the same level of great anecdotes of his personal life as well, and many will be saved for the print version of his biography. However, some of it will be presented here from the perspective of his recollections, that of his wife of 35 years, and from his three stepchildren, or more correctly, self-adoptive children. As his stepson or son, I will do my best to represent all of these views as I have heard them frequently from others, and as I experienced them myself, and will thank you for your acceptance of my indulgence in this regard.
Sam was what some often jokingly referred to as a "confirmed bachelor," in spite of three engagements over the years, and someone who was content in his status as a single person Given how active he was in the entertainment business, he was possibly too busy at times to sustain a serious relationship. He usually kept many details of whom he was dating through the 1940s to the mid-1960s to himself, and we will not drop names here, but some of them include fairly well-known actresses. Radio fanzines often linked him, as they did most well-known actors and actresses, with somebody now and then, but it was largely publicity, as it still is today. Sam bought a couple of homes in Studio City, California, in 1949, and actually held on to one of those properties until 1980. It was in the south end of the growing San Fernando Valley, centrally located to the movie and television studios (thus the name), as well as radio production facilities over the hill in Hollywood. At one point, Sam also owned and lived in the house next-door to his second Studio City residence, as explained later.
Know that Sam was also dedicated to his family as well. His brother Jack and sister-in-law Jane Webb lived just a few blocks away for a very long time, and his sister Florida, who by the 1960s was no longer working regularly in show business, also lived near by at times. Jack Edwards Senior, long retired from show business, had died, possibly in 1959. Sam's actress mother Edna was cared for by Sam and his siblings, living at times with Sam in Studio City until her death on June 5, 1967. I personally went with him on a few visits to her grave at the famous Hollywood cemetery.
Then one day things changed drastically for the "confirmed bachelor." Sam was exercising one of his favorite pastimes, the game of tennis, in a celebrity tennis tournament in in the spring of 1966. Also in attendedance were his good friend and neighbor down the street, actor Bill Erwin (Home Alone 1/2 and Somewhere in Time as Arthur) and Bill's wife (the late) Fran Erwin. Fran worked with newly-divorced Beverly Motley at the Valley News and Green Sheet, a paper that literally had a green front page, and was working to be a serious competitor to the Los Angeles Times. Both Fran and Beverly were covering the event for the publication. It was there that Sam was introduced to his future wife by Bill and Fran, and that's where the stories really begin. During the next few years, it would often come in handy that Sam was an actor by trade, because he would have to take on a number of new roles that required great adaptation.
Let us iterate one of his first meetings with his future stepchildren, and his good humor dealing with them. Bill was 7, Deborah 5 and Linda 4 at the time. On the first occasion that he appeared at the door for a date, one of the three of us (no names here, and we frankly can't seem to agree on who) unceremoniously announced, "Mom, whatever you're going out with is at the door!" He didn't run. During an early date the topic of our favorite show came up. It happened to be Rod Rocket. It seems that as a result of this cartoon that I watched religiously, and my sisters when they happened to be around, that I had learned to count from 1 to 10, or more rightly from 10 to 1, something that she was trying to correct. She had a problem with Rod Rocket. That's when Sam announced, "Well, I'm Rod Rocket," with good humor, of course. He didn't run.
Then there was the move toward a serious relationship that was a true test of character of Sam, and which I will fondly share as a humorous but important memory. In order to progress in the serious relationship, Beverly, showing a touch of class that is rarely seen in this decade, chose one last date with her current suitor (whom we called "Mister Ed" but will otherwise remain nameless) in order to politely announce her intentions. HOWEVER, she could not find a sitter. I don't believe it was the children that compounded the problem. I just think it was the wrong night to locate a starving teenager or responsible adult with idle time. SO! As a last resort she called... Yup! Sam. He chivalrously agreed to make the 20 mile trek under the circumstances and watch after us while she finished up business with Mister Ed. Somehow, he became convinced (not of his doing, I'm sure) that we were all supposed to take a bath at the same time (c'mon, we were little; this still happens elsewhere). That was likely the highlight of his evening. In any event, when Beverly came back, Sam was partially unconscious on the couch while we were happily in bed, and things were fine until she observed the ceiling of the bathroom, which looked like the canopy of a rain forest. Don't know if he got a tip for enduring that, but he got the brass ring for sure from all of us. And he didn't run.
Also during the dating years, there was the rather daunting task of winning the approval of my maternal grandmother. She probably had some distaste for suitors after our father's departure, and it was compounded by the fact that Sam was in, what people born in the early part of the century might consider, a less-than-noble profession. Age may have been a factor as well, but it never was for any of the rest of us, since Sam was obviously much younger than his years, playing juveniles on the radio into his 50s. In any case, there was the formal dinner where he met the relatives. Seems that in his effort to be polite he nearly starved to death. So he couldn't run! (But then again, he
never
did.) We all knew how to balance passing of dishes with consumption of the food, but Sam spent much of the meal politely passing dishes around to help serve everybody, and really didn't get to dig in until the second course. In any event, he eventually won over Beverly's mother, and soon became a local celebrity in her hometown of Carthage, Missouri, where the papers were somehow alerted at times when Sam visited town.
Sam and Beverly wed April 19, 1969, in a simple ceremony at
The Little Brown Church
in Studio City. He kept his house in Studio City, renting out to a tenant who would graciously remain there for more than a decade. As a stepfather myself, I can assert how difficult it is to assimilate into a new mixed family that not only involves somebody else's children, but their father as well. It can be good or bad, or both at times. We certainly regarded our father, but accepted Sam fully into our lives and our home, and were genuinely happy for our mother. At the time they married, I'm not sure we fully understood the measure of how famous he was or his long-time involvement with radio, film and TV, but I don't believe that really mattered. So even though there were some awkward moments, more for him than for us, he adapted well taking on the role of mentor and role model more than anything. This included involvement with school activities, scouting campouts, field trips, etc. All were important to us, and he was better than a mere substitute for our mother, who at times was not able to attend such activities. So his acceptance into our lives was, for the most part, smooth and eventful in a positive manner.
At that time, we lived in Northridge (sound familiar) at the north end of the San Fernando Valley. My mother accepted a job in 1970 at the world famous Beverly Hills Hotel as their public relations director, which was exciting in that she directly handled the visits of many notable personalities, but also meant an extended commute on the increasingly congested freeways and roads of Southern California. That would change as a result of a momentous event. I remember that on February 8, 1971, that Sam accompanied me to my last Cub Scout Blue and Gold Dinner, which was held at the local Shakey's Pizza Parlor. That was not all that was "Shakin'." The following morning around 5:59 a.m. I awoke to the noise of virtually every dog and cat in the neighborhood sounding off about something. It was eerie to say the least, particularly since it was still dark. I drifted off a little, but at 6:01 the earth unleashed itself in nearby Sylmar. The end result was a 6.7 quake that changed the lives of many in the northern San Fernando Valley. Sam managed to keep us all calm, in spite of the trauma that we and our house had experienced. The toilet covers had jumped to the floor, and the refrigerator and piano moved quite a distance as well. The kitchen was nearly covered with broken glass and assorted liquids. Parts of the ceiling had come off, and there were cracks in most of the wall joints. Then the reports of the potential of the nearby reservoir dam breaching caused us to temporarily relocate to Orange County for a few days, even though we were not directly in the path. It should be noted that for the rest of our time in that house, it never stopped moving. The place was constantly creaking and swaying just a bit, a very eerie sensation. Sam did what he could to put things back together, but in mid April an aftershock that was centered more or less directly under our house shook it up and down violently, as opposed to the lateral motion of the previous quake, and that codified things. Turns out that even though his Studio City house was not currently available due to the lease in place, the house next door was up for sale. Since the south end of the San Fernando Valley is less rock and more sand, it was less susceptible to the constant and sometimes horrendous shaking that would continue for the next few years. And so it was that we moved into the heart of motion picture activity, and were now on Sam's turf, an exciting change for us all.
As evidence above shows, Sam was extremely busy in his work in the 1970s, while we were making the rounds of junior high and high school with many other kids of actors, producers, composers, lawyers, and other Hollywood types. In reality, Beverly had as much access to high-powered entertainers as he did, being responsible for many of the details surrounding their stay at the famed Pink Palace of Beverly Hills. I don't think it ever fazed Sam that while we could watch him on screen on the Red Skelton Comedy Hour with John Wayne, or on something exciting like Mission: Impossible!, Beverly would bring home stories about Liz Taylor or even autographs of celebrities like John Denver or Paul McCartney. We were three kids in the realm of "cool" for the most part, but having been ushered into this so naturally it simply seemed just a little extraordinary at the time. We also had many of his actor friends attending parties regularly at our home, which was always great fun. Since Beverly usually arranged the details of these parties, we did not always know who had invited which guest, but since everybody had a good time and got along, that is incidental now. In retrospect, having viewed Sam's career backward from the end of his life to his early days while composing this piece, it turns out that he simply did not always let on to us about that extraordinary career. This shows the wonderful non-competitive part of his nature, the rest of which he applied most appropriately
This was most often shown in one of his passions, a common sport of Hollywood stars (particularly Matthew Perry in this decade). It was tennis that Sam thoroughly enjoyed. If he had any great aggression, we simply did not see it anywhere else except on the courts of North Hollywood. His game was of a skilled and competitive nature as well, and may have been a major contribution to his relative longevity. Sam often participated in celebrity tournaments, and when he wasn't having to fix cars or shuffle kids around, he loved to hit the courts. It beat grousing at his agent about having to collect unemployment two or more weeks in a row (a necessary evil for many actors, as you may be surprised to find out - if it bothered him he never let on) or getting no exercise at all.
When Beverly had the rare day off, she and Sam sometimes drove to Newport Beach where she would shop and he would play tennis at a popular club there. It was managed by Glenn Turnbull, and old Army buddy of Sam's. One day Glenn set Sam up to rally with a young girl or 12 or 13, who needed a match for the experience and training. Sam went easy on her for perhaps a serve or two, but quickly learned the potential of young Chris Evert, a name he would not forget. To the end of his life he followed tennis whenever he could, his favorites being Wimbledon and the U.S. Open, the latter of which he had the thrill of attending in the 1982.
What kind of car does an actor drive? We knew many of them, and unless they were the ostentatious stars you saw in the tabloids or omnipresent on the screen, they usually drove just a car. In fact, some big names didn't necessarily maintain a status for all that long which allowed them such a luxury. At one point in the 1970s, the late Donald O'Connor, perhaps the driving force behind the most memorable scenes in Singing In the Rain with Gene Kelly, was not working so much, and was certainly down on his luck. In fact, he was near the point of a loan default that would have resulted in a repossession of his car. As a member of the AFTRA Credit Union finance committee, Sam requested that O'Connor be given some time to get back on his feet which allowed him to keep the car. It was not a big effort on Sam's part given his generosity, but deeply appreciated by O'Connor, who did get back to work enough to justify the faith in him. Even at the end of his life, the entertaining comic dancer was overwhelmed at the renewed interest in his work of the 1950s, so perhaps he simply underrated himself.
Back to the question above. Sam had kids and a wife, so regardless of what he drove before, it was usually a big gas guzzler that dominated our driveway or the street. To compound things, Beverly was starting to migrate into a career in the recreational vehicle writing and editing business, so we had trailers that grew in size over the 1970s, requiring larger cars to pull them. But he still did indulge. While you may think many actors would go for a Rolls Royce or a Jaguar (Dean Martin had one with the license plate DRUNKEE), or the more powerful Shelby-ized Fords or foreign sports cars, Sam was content with a 1968 Camaro fastback for many years, followed by a 1969 MGB hardtop. Imagine, if you know such a car, five people crowding into it (it was done) for a casual trip to the ice cream parlor. But it was fun, so who cares. He was just plain folk, and yet extraordinary in that regard. To add some perspective to true coolness, the MGB was a manual transmission model (I don't think they made anything else). Two of the actors who played James Bond no less admitted that they couldn't even drive a car with stick shift, which of course includes various incarnations of the Aston Martins. Therefore, Sam could go where James Bond could not! Sadly, the MGB had to go when they moved to Colorado, but he had many fond memories of driving it, as did we in riding in it.
The moment of most meaning to me in regard to the MGB was the night, after I had been licensed a mere seven months, that he offered the precious yellow speedster to me for my prom (held at the now defunct Cocoanut Grove in LA). This was a show of character that had, perhaps, a bit of personal history going back to his high school prom and the incident with his father and the "borrowed" car. I was both excited and nervous about the opportunity to drive his precious car (I later owned an MGB ragtop of my own), and the gesture had immense meaning. It had been enough that I was allowed to put in the cassette deck stereo and ride in the thing once in a while. It made that night very memorable.
Christmas was always good with Sam around. He made it fun with his outward comical defiance of the holiday and the ubiquitous "Bah! Humbug" whenever possible. (Ironically, he had played Bob Cratchit in more than one production of the famous
A Christmas Carol
.) But we all were treated equally and fairly, and generously I believe my sisters and I should add. It was Sam who played a big role in getting us each our first car, since he was the mechanically minded type. For myself it was a Ford Pinto that he was working on at his brother's house a few blocks away right up until Christmas Eve (and as the picture shows, even Christmas morning). Sister Deborah had a Chevy Vega. In spite of their reputation for early extinction, it was Sam's eye for this car as well as the initial care he gave it that made this a rarity, lasting well beyond its life expectancy of 80,000 miles. Linda had a Pinto Wagon. Hey, get lemons, make lemonade. Yeah, our Pintos lost the shift lever now and then, and had a multitude of other issues, but Sam always managed to make the wrongs right, something we know that took a lot of his time and effort. Although his always respectful treatment of Beverly and full support of everything she wanted to do is a big part of his legacy, his efforts at his relationship with each of his step-children was one of his greatest gifts to her during their first decade or more of marriage. It just took us a while to put that in perspective as adults.
Sam set an example for each of us in our lives, and together with Beverly, allowed us to choose our path to independence with sometimes-unseen guidance. He was rarely judgmental of us (although there were a few actors he certainly had strong opinions about) and found ways of rationalizing the better way to do things without trashing the way we wanted to do something. To honor this, each of us had our names legally changed when we could do so. In a sense, while he did not directly adopt us, it was clear all along that we adopted him. There is power in that. Again, while his long career speaks a lot about the type of person he was, the personal side of Sam (and there are hundreds of stories that will be told someday soon) and the impact he had on all who knew him in that regard, is the most important part of his legacy. The past few paragraphs just touch on the surface of that, but they hopefully provide a glimpse of the quality of human being you have been reading about.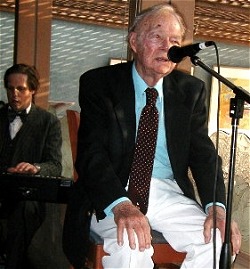 Sam and Beverly moved to Durango, Colorado, in a house they had custom built for them in 1980. They would spend at least part of the rest of his life there, although there was a lot of travel in store for them both in the U.S. and around the world. Beverly continued to write as a contributing editor for Trailer Life Enterprises and the Good Sam Club in the 1980s, often residing in their RV camped in the company 'sparking lot in Agoura, California. She later retired to feature writing and free-lancing, which she still pursues. After Sam's retirement in the mid 1980s, he and Beverly continued to participate in conventions featuring the Golden Days of Radio. There are many groups throughout the country that touch on the genre as a whole, such as SPERDVAC (The Society to Preserveand Encourage Radio Drama, Variety and Comedy) in Southern California, REPS (Radio Enthusiasts of Puget Sound) in Seattle, FOTR (Friends of Old Time Radio) in New Jersey and those with a specific focus, such as the Lum and Abner Society. At these conventions, and at other appearances as well, he would not only perform as Dexter, but took on other roles as well, including some originated by other actors. This includes some sketches with Beverly recreating the Don Ameche and Frances Langford radio comedy,
The Bickersons
. The veteran radio artists also recreated some
Gunsmoke
and
Suspense
shows from the past, including reprises of scripts he originally did in the late 1940s or early 1950s. His last such appearance was in June, 2004, at the annual REPS convention in Seattle, Washington, where he performed pieces from his World War II tour of duty, accompanied on the piano by stepson Bill Edwards. There he reprised
It's A Helluva, Swelluva, Helluva Life
,
I'll Be Seeing You
, and a very emotionally rendered
Sonny Boy
. Nobody there knew it was his farewell appearance, but the family believes he may have had that feeling.
Sam died peacefully in Durango on July 28 following a brief myocardial infarction that exposed a hole in his heart, some 12 years after bypass surgery. He was surrounded by his immediate and extended family and friends during his last three days, and as always, with much love. Now it is we that are left with a hole in our hearts, but it will forever be filled with wonderful memories of this man who was incapable of leaving behind a memory of any other kind. Thank you, Sam.
---

Beverly Ann Edwards (loving wife)
    Rozella Scroggs Williams (sister-in-law)
Jack Edwards and Jane Webb Edwards (brother and sister-in-law)
    Alan Edwards (nephew)
    Steven Monroe (nephew)
William G. Edwards (stepson)
    Joanna S. Edwards (first daughter-in-law)
    Pamela L. Edwards (second daughter-in-law)
    Alexander Samuel and Zachary Paul Edwards (grandchildren)
    Patric, Marcia and Kelsey Pederson (step-grandchildren)
Deborah D. (Edwards) Billings (stepdaughter)
    Todd Billings (son-in-law)
    Sarah E. Rolland (granddaughter)
Linda E. (Edwards) Cameron (stepdaughter)
    John B. Cameron (son-in-law)
    Gordon B. Cameron (grandson)