Eugene Buck (possibly Jean in his early years) was born in 1884 in Detroit, Michigan to George Buck and Catherine McCarthy. He had two other brothers, including Charles A. (7/18/1883) and George W. (1889). Gene was, as some have called it, a triple or quadruple threat, known nearly as well as a musician, lyricist, composer and producer as he was for his cover art contributions.
Eugene's father was an inventor, but he died when the boy was around nine years old, leaving his family nearly destitute. Catherine managed to keep them in a home in Detroit and made sure her sons got a proper education in a parochial school, and two years at a Jesuit college for Gene.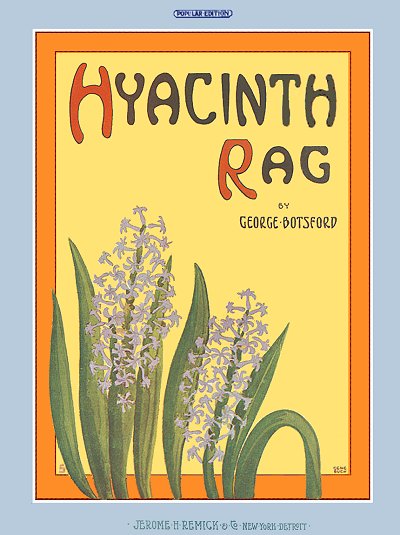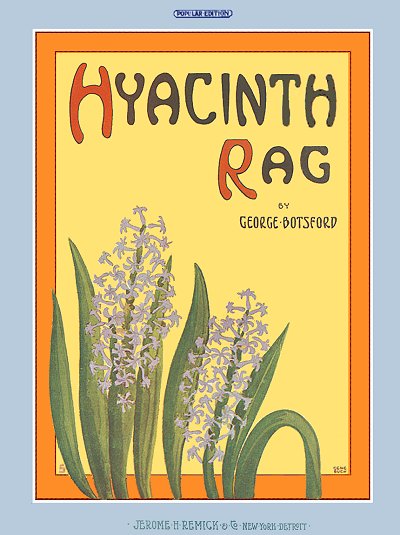 Out of that college at age 18, Gene got a job working for two dollars per week at the
Dime Savings Bank
, a career in which he proved to be totally unsuitable. Using the funds he earned at the bank, Gene obtained formal training at the
Detroit Art Academy
, focusing on
Art Noveau
. Buck was soon employed by a stationery manufacturing firm designing covers and borders. This company was responsible for the bulk of the sheet music covers used by
Whitney Warner
music in Detroit. Buck insisted that they could do better, and started producing multi-colored illustrated covers for the firm, and the trend was soon copied by many Midwest publishers. Among his first releases were
My Creole Belle
and
Hiawatha
. When
Jerome H. Remick
bought the firm he hired Gene as a staff artist. Evolving from his initial training he became adept at
Art Deco
even before it had recognized as an independent style.
In early 1907 Gene temporarily lost his sight due to ulcers on his retinas, and was unable to work for several months. After three to four months his sight returned sufficiently enough for him to continue. He relocated to New York City, arriving with only $13.50 in his pocket and no firm position. It did not take him long to find work again as a free-lance cover artist, even making more contributions to his old employer. Gene took a studio next door to artist James Montgomery Flagg, who would soon be famous for the Uncle Sam "I Want You" poster. In addition to covers and paintings he started writing jokes and verses for comic weeklies. The bulk of his 5000 cover illustrations range from 1904 to 1914, a time when he started experiencing more permanent vision problems, making any continuation of drawing difficult at best. The 1910 census shows him in Manhattan as a "designer" in the music field, but he was starting a career transition.
Starting in 1910 Buck tried his hand at composing. Many of his earliest songs contributions were as a lyricist to the music of Dave Stamper, the accompanist at that time for Nora Bayes and Jack Norworth, appear on a series of Edison Diamond Discs from the early to mid-1910s. Gene was quite active in the New York music scene and mingled with stars of stage and screen. In 1912 he was engaged by Oscar Hammerstein to do set designs for singer Lillian Lorraine, and also directed her act, which included his co-composition Daddy Has a Sweetheart and Mother is Her Name. Originally intended for her performance in the Ziegfeld Follies of 1911, the song was rejected as the wrong material for Miss Lorraine. She left the Follies a few weeks later, and Hammerstein engaged her as well as Gene to help with her appearances in his show. Lorraine and the song subsequently became a hit, as did the follow-up, Some Boy. Gene also wrote with composers Victor Herbert and Rudolph Friml. He was also one of the founding members of ASCAP in 1914.
Buck spent nearly seventeen years in the employ of Florenz Ziegfeld contributing compositions and set design for the famous Ziegfeld Follies, and even doing some directing as well. His 1918 draft registration showed him as a playwright with Ziegfeld working at the New Amsterdam Theatre. As Ziegfeld's male talent scout he was responsible for either discovering or engaging the services of stars such as Ed Wynn, Eddie Cantor, Will Rogers, W.C. Fields and artist Joe Frisco. He was said to be most proud of acquiring set designer Josef Urban, a European who had been stranded when his company folded. Even though he had no English skills when hired, he became an instrumental member of the Follies, helping design and build many stunning sets. He even decorated the Buck's home in Great Neck. Gene was also responsible for originating the combination restaurant and show on the roof of the New Amsterdam, which became known as the Midnight Frolics, ultimately producing 17 editions of the revue. In 1917 he co-wrote the show Zig Zag for the London Hippodrome. In early October of 1919, Gene married actress Helen Falconer, with whom he would remain for life.
Buck continued composing into the 1920s and was the President of ASCAP (American Society of Composers and Publishers) from 1924 to 1941, playing a large role in the licensed use of music on radio. He also was known to have kept some black composers from direct involvement in ASCAP, and was admittedly surprised to find that there were objections to this mode of thinking. Buck helped ASCAP to win a major music protection case in front of the Supreme Court in 1931. During much of this time the Buck family lived in Kensington, Nassau County, New York, then in Great Neck on Long Island. The 1930 census showed Gene, his wife Helen, and their two sons, Eugene Falconer "Gene" (1/1925) and George William (12/1925), in Kensington, with Gene listed as a theatrical producer. Also in the house were his younger brother George, and Helen's two sisters.
In 1936 Gene and ASCAP were up in arms about proposed changes to 1909 copyright laws which, in his words, would legalize music piracy by broadcasters, hotel operators and the film industry. He already had offered some choice words for radio, saying that it could "kill a popular song" in just six weeks. The lobby behind the Duffy bill called ASCAP a group of "racketeers." At issue was the removal of a damage clause and limit royalties to songwriters. Buck was passionate to the cause, introducing some of the "racketeers" at a press conference, including George Gershwin, Rudy Vallee and Ethelbert Nevin. He was further supported Deems Taylor and Oley Speaks, and publishers Carl Fischer, G. Schirmer and Irving Berlin. Florida and Washington state laws were used as a challenge to the ASCAP case, stating that the licensing was illegal. This contest ultimately went through several appeals to the Supreme Court in 1939, and ASCAP prevailed for the moment. This was followed by a challenged from N.A.B., the National Association of Broadcasters, one of the original sponsors of the Duffy bill. The Buck family was seen on a cruise passenger list in 1936 sailing from San Francisco through the Panama Canal. He was also heavily involved in ASCAP 25th anniversary concerts at two World's Fair locations in both New York and San Francisco in 1940. For the enumeration that same year taken in Kensington, he listed himself as an author. His brother George and sisters-in-law were still lodging with the family as well.
Buck tried to buck BMI and their licensing practices in front of Congress in 1940 and 1941. On February 22, 1940, while vacationing in Phoenix, Arizona, he was arrested on a Montana warrant that charged attempted extortion. This came from the demand by Buck and ASCAP that certain radio stations pay fees for the use of music over which the organization claimed control. He claimed that the arrest was part of a "smearing campaign," thus the arrest on a Federal holiday, and was released on $10,000 bond. The suit brought by the state's attorney in Montana alleged that ASCAP was threatening to the licenses of radio stations and theaters that were not making substantial payments for those licenses. In turn, ASCAP was fined by the courts for $35,250. While the overall charges were later reduced, when ASCAP was threatened with litigation claiming them to be a monopoly in 1941, Gene consented to a compromise, and then stepped down from his leadership role in early 1942 after seventeen years.
In spite of the occasional negative press, Buck was later remembered in his ASCAP role as "the greatest exterminator of piracy since Decatur," referring to the famed 19th Century naval officer Stephen Decatur. In 1940 he received the Henry Hadley Medal from the National Association of American Composers and Conductors for his efforts in advancing and protecting American music. He also became the president of the Catholic Actors Guild, a position he held through the end of his life. He was also a lifelong member of the board of directors of ASCAP. In his long career Gene was reported have had done as many as 5000 covers, although this includes arranging photographic as well as text-based covers. He also contributed to over 500 songs. Gene died in Great Neck in February 1957 after an illness of two weeks. His funeral rites were presided over by former president Herbert Hoover.
Notable in Buck's style is the use of minimal color palettes, often leaving many elements of the cover clear or showing a single color that would define the cover. The people were consistently drawn with succinct expressions, and the artistic elements when they appeared were well-defined although simply colored and logically patterned. Many of his covers do not bear his signature, but his distinct lettering technique on the Remick issues certainly help give them away.